Climate neutrality and sustainable energy systems with greenventory
Welcome to your partner for the energy transition! Benefit from the power of digitalisation to promote the energy transition in your energy projects. Numerous energy suppliers, grid operators and municipalities rely on our data-driven decision-making tools for energy systems and our competences in the field of renewable energies. Build a digital twin of your city or supply area. Analyse your energy potentials and uncover future opportunities. That way, you will also come a step closer to the goal of climate neutrality.
Driving the energy transition forward with high-tech and know-how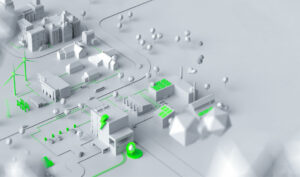 Driving the energy transition forward with high-tech and know-how
We need an energy transition. Now. Decisions have to be made. We will make sure they are the right ones. How do we do that? We work with you to take stock of your energy systems. We then provide you with decision support based on complete data sets and digital analysis. This helps you find solutions quickly and tackle projects effectively. We offer comprehensive solutions for your energy systems: Through the combination of our modular software solutions and individual energy planning, we work with you to bring energy projects to a successful conclusion and support you in driving forward the energy transition.
Driving forward your individual energy transition
Energy planning: Optimise your energy projects
Complex energy projects? Too little or overwhelming data and limited resources?
Does this sound familiar to you? Then greenventory is the right choice for you! We offer you expert knowledge and help you automate energy planning. We are happy to accompany you with our modular software products and our extensive know-how in large and small energy projects. Together with us, you will find the best individual energy solution and be able to implement it. Discover your options now:
Making the right decisions with the help of a data-driven digital twin
greenventory's technology, developed with a great deal of experience, is the basis for a modular, highly flexible software platform. As a web-based solution, it ensures clarity and transparency in energy projects. With a variety of data sources and modules, our green energy planning company reliably analyzes and plans projects from one building to entire regions.